Commercial cleaning services refer broadly to a set of jobs that are usually associated with cleaning. These jobs have to be done regardless of whether the individual has a home-based workplace, or is a service provider or running a cafeteria or whatsoever. Different kinds of services are available which provide different set of cleaning jobs. Each business chooses that set of services essential to ensure the cleanliness of his workplace.
Need for hiring commercial cleaning services
It is foolhardy to expect the business owner to supervise the cleanliness issues of his workplace by himself. Nowadays, with professional help in this regard being available, it makes more sense for him to hire them and gain the following advantages:
Save time and energy by avoiding getting the work done from the staff
Professionals have access to better and effective cleaning products
Added defense against food stains, grime and dirt is obtained guaranteeing a spick and span workplace
Commercial cleaning professionals are normally licensed and hence, assurance of environment friendly cleaning is obtained
Cleaning crew has formal training in this field and hence, they know exactly how to tackle each cleaning job
With professionals on the job, overall costs of cleaning are reduced
The business owner has his workplace spruced and cleaned right so as to make a good impression on his clients.
Reliability Factor
Hiring the com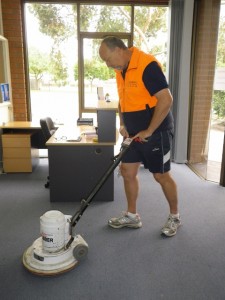 mercial cleaning services of professional cleaners is the wisest decision that a business owner can make but at the same time he has to ensure that the cleaning company chosen has a solid reputation. Security is a major factor to be considered by the business owner as he would be letting in unknown people into his office to do the cleaning jobs. The commercial cleaning services company as a rule ought to conduct complete criminal background checks on the cleaning crew employees so that their uprightness, dependability and honesty can be guaranteed. Selection of a reputable cleaning agency will enable the business owner to hand over the keys of his office without any second thoughts.