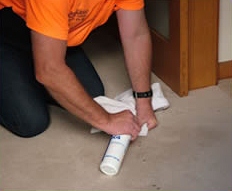 When it comes to spill and stain removal, don't fall for the old wives tales. Call Kanklean, the professionals, for real advice.
Our professional knowledge of cleaning will help you with those stubborn stains on couches, carpets, drapes, walls or any household surface.
Call Kanklean as soon as your accident occurs and we will offer immediate support. We will help you to increase the life expectancy of your fabrics by offering correct and suitable care.
Kanklean has two major stain removal products: