Aluminum Foil also commonly known as Tin Foil:
Did you know that you can use tin foil to get baked on reside off glass casserole and baking dishes ? Just roll some tin foil into a ball and rub over the residue, you will find it comes off easily.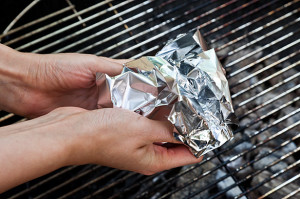 After you've turned off your hot glue gun and it's cooled down scrunch a small ball of tin foil and you can wipe over the nozzle and surrounds, removing the glue without harming yourself !
Many of us still have electric ovens with heating elements, and often ignore the element when cleaning the oven; so we possibly end up with toxic chemicals on the element which will keep burning off once the oven is clean. Making sure the oven is completely cold, wrap the elements in tin foil and set to cleaning; simply remove the foil once you have finished and you won't be risking yours or your family's health by cooking in an oven that has residual toxic chemicals.
If you are shampooing your carpet yourself, try wrapping the legs of your furniture with tin foil, this will prevent the moisture from being absorbed.
The bathroom/toilet are the most prone areas of your home for mould; as we become more aware of keeping our homes healthy, preventing mould is premium.
A common mistake when cleaning bathrooms is using the same cloths for different surfaces. Ideally you should have a different cloth for the bath and shower, then one for the basin and bench top and if possible disposable cloths or paper towels for the toilet.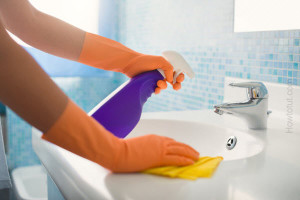 A simple squeegee will make a huge difference to preventing mould and your overall time and effort in cleaning your shower. By eliminating as much water from the shower using a squeegee each time you use it, you will cut down on the moisture and therefore avoid mould growing. You will also help prevent soap scum build up, so the shower will stay cleaner.
Don't forget ventilation! Some older bathrooms don't have fans, just a vent in the wall; a simple oscillating fan can be plugged into the bathroom as needed to get the air moving. With older and particularly small bathrooms, try to use natural cleaning products, rather than strong chemicals – white vinegar, baking soda, and lemons – are all great and won't overwhelm you while you're cleaning.
Whenever possible, wipe or squeegee the surfaces as you go, rather than leaving this for the weekly clean. You will make your life easier and healthier.